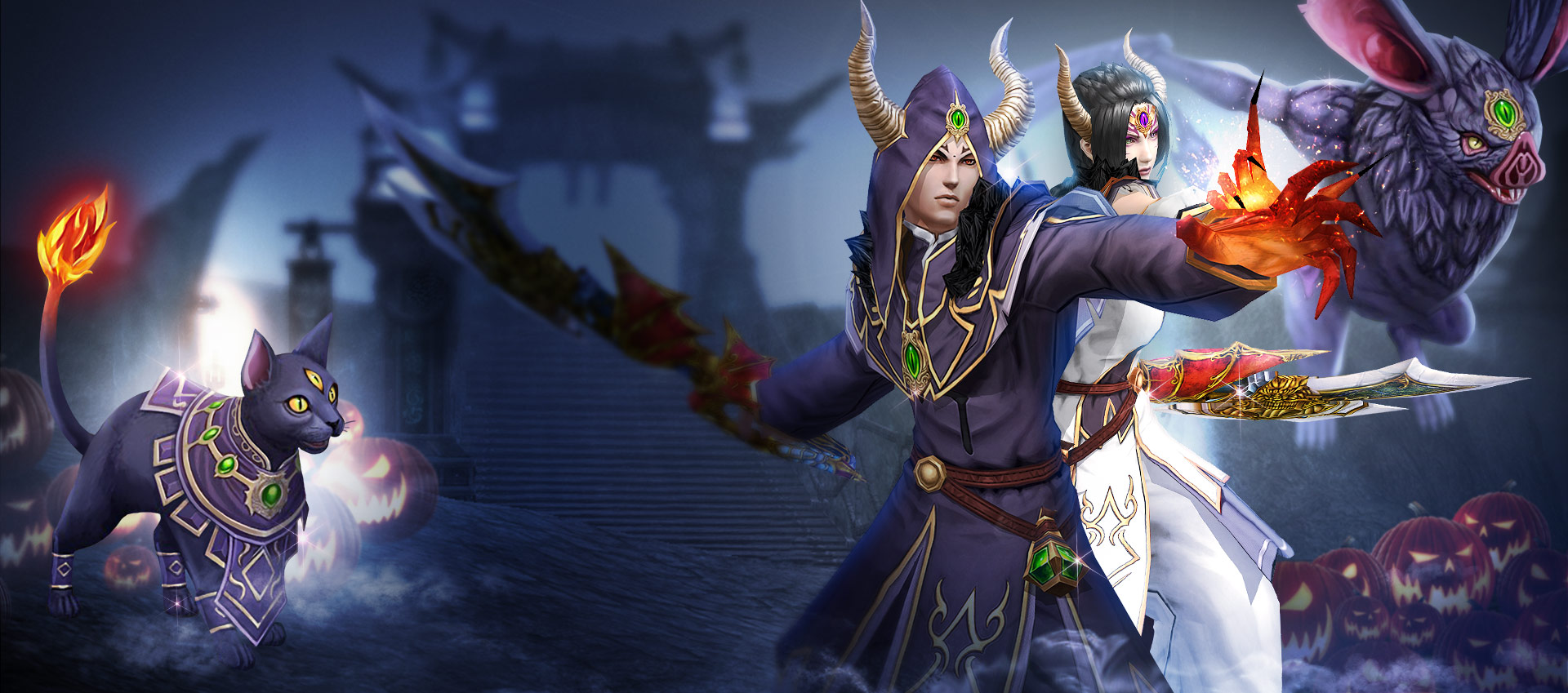 The days are getting shorter, the nights are drawing in… Halloween is upon us! During these eerie nights, the denizens of Metin2 dress up in spectacularly creepy costumes, take their scary pets out on parade, and earn fabulous prizes in the Yut Nori Event!
To make sure you're well kitted out for the occasion, you can pick up new Halloween items in the shop. For a short time only, you'll find Seer's Robes and matching headgear in two mystical colours, along with All-Seeing Cat pets and two bat mounts available in store. Put together costume, headgear, pet and a lolly to enjoy fantastic set bonuses:
* EXP +150%
* Magic/melee attack +5%
* Skill damage +5%
# Event: Yut Nori
Hunt monsters to gather Birch Branches, combine 28 of these into a Yut Nori Board, and let the fun begin!
* Start: 10th October 2019 at 2:00 PM
* End of Birch Branch drops: 31st October 2019 at 2:00 PM
* Event end: 1st November 2019 at 2:00 PM
## How to Play
1. You play against the computer.
2. Each player has two pieces. Whichever player brings both pieces home first is the winner.
3. Instead of dice, the game uses Yut Sticks. The number of spaces you can move is determined by how many sticks land with the flat side facing up.
4. The first throw determines the starting player. The player with the lowest score begins.
5. Click on 'Throw'. Your move is displayed below. Select the piece you wish to move.
6. If you land directly on a space with an arrow, you can take the shortcut.
## Throws and Moves
Do (one flat side up): Move forwards 1 space
Gae (two flat sides up): Move forwards 2 spaces
Geol (three flat sides up): Move forwards 3 spaces
Yut (four flat sides up): Move forwards 4 spaces
Mo (four rounded sides up): Move forwards 5 spaces
Back Do (only marked stick with flat side up): Move backwards 1 space. If you do not have a token on the board, you will have to wait a turn.
Job-gi: Landing directly on a space occupied by the computer's token removes it from the board and you receive 10 points.
Up-gi: If both of your pieces end the turn on the same space, you move them as one starting with the next turn.
Throw again: If you score a Yut or Mo, you get another turn.
You can increase your chances of landing a certain throw. Simply select it from the relevant menu.
## Points
1. Throwing the Yut Sticks: -10
2. Catching the computer's piece: +10
3. Computer catches your piece: -10
4. Getting your piece home: +10
5. Computer gets piece home: -10
## Please note
If you abandon the game or leave the map on which you are playing, you will not receive any reward.