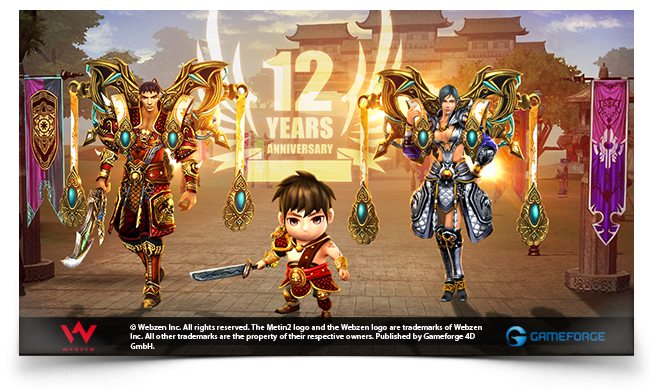 Dear players,
We're starting 2019 with a bang, celebrating both Metin2's 12th anniversary and the release of the first update of the year!
Here's what you can look forward to from 22nd January:
12 Years of Metin2 – Anniversary and Boss Reaper Event from 24th January
The kingdoms are decked out ready for the celebrations, but monsters have nicked all the colourful flags! Hunt them down and retrieve the Party Flags. Exchange them for a slice of birthday cake from the NPC Cherie and benefit from a 100% EXP bonus for 30 minutes. Had your fill of cake? Cherie will give you an Anniversary Coin up to 7 times per day for your Party Flags. These can be used to buy loads of useful items from the Anniversary Merchant!
We're also launching an anniversary special of our popular Boss Reaper Event. Hunt down the Shadow Warrior, earn hits and use this chance to pick up a Bronze, Silver or Golden Decimus Chest which may contain valuable Anniversary Coins.
Free Bonsai in the Shop
Pick up your party gift from 24th January. Available once per account, collect your free pet Bonsai and take the pint-sized warrior with you on your adventures!
Expanded Dragon Stone Alchemy
There's been much discussion about them, but with the release of version 19.0 we'll see an expansion to the Dragon Stone Alchemy system with the introduction of Mythic Dragon Stones. These stones belong to a higher class and can have between 3 and 6 bonuses.
We've taken your feedback from the last open beta on board and introduced a new item as well: the Flame of the Dragon allows you to reroll the bonuses on your Mythic Dragon Stone. You can get this item from boss monsters and the item shop.
More Storage Security
In order to provide better security against theft, we're requiring you to change your storage password every 90 days. By way of reward, you receive 1 of 4 storage bonuses which last for 90 days. The following characters are permissible in storage passwords: a-z, A-Z, 0-9. Using the same number three times or a row of consecutive numbers is not permitted.
New Item: Time Spiral (10%)
Patience may be a virtue, but waiting is a pain in the neck! Thankfully you can use the brand-new Time Spiral to save valuable time. It reduces the waiting time before you can hand in another research quest item by 10%. You can find the Time Spiral in the item shop.
Tips and Tricks
A new feature with this update, the loading screen now displays a wide variety of handy game tips.
Have fun,
The Metin2 Team