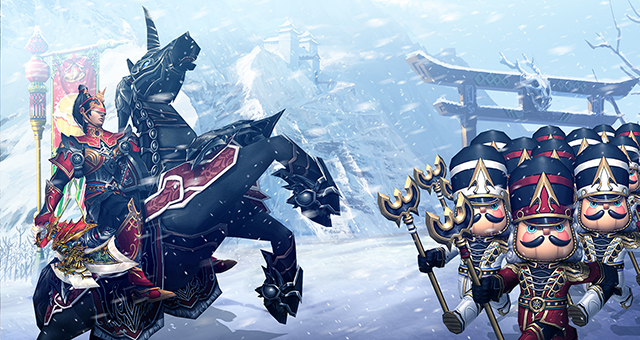 Dear Community!
The dulcet sound of bells hangs in the air – the Advent season is upon us once again, a time for tranquil reflection and reminiscing while the snowflakes fall. Nah, get real! With us you'll be ploughing up the snow with your two-handed sword, and the only bells you'll hear are being clattered over your enemies' skulls! It's time to gather your wits, because there won't be chance to catch your breath between now and Christmas:
Rampant Action on Merged Servers
We've been fusing game worlds and filling the servers with life. Find new allies, challenge new rivals and look out for epic duels around every corner!
Rapid Progress and Rich Rewards
On 22nd November we're launching our temporary Xmas servers! Special rules apply on these limited event servers – look forward to the following until 16th January 2019:
Hit the ground running with a new character and level them up to the max in under 8 weeks.

A variety of events will keep the adventures coming thick and fast.

Fight your way to the top at dizzying speeds, thanks to 40% extra EXP and the 75% greater item drop chance.

Reap huge rewards.

Complete as many quests as you can during the event and earn tons of item coupons for chests, mounts, pets and more. The codes will be sent to your registered email address.

Please note, that the coupons will expire on 16.02.19

Killer Savings from Black Friday to Cyber Monday
Go on a shopping spree during our Super Deal Weekend from 23rd to 26th November! Virtually every hour you'll find amazing deals waiting in the shop. Plus you can use Dragon Marks to get your hands on items which are otherwise only available for Dragon Coins!
Daily Surprises in the Advent Calendar
Log in every day during the Advent season to pick up a new gift!
Prizes to Be Won in the Christmas Minigame
Take part in the popular Okey Event from 29th November and earn spectacular prizes.
Still Feeling the Humbug?
Not to worry – pay a visit to the item shop and let our Nutcracker pets, fabulous unicorns and epic costumes get you in the Christmas spirit.