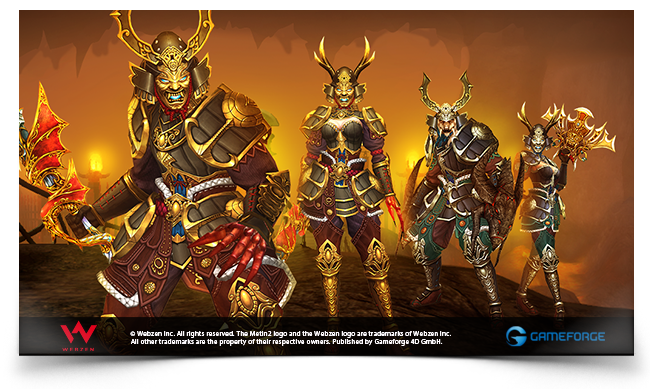 With the update 18.2 a serious heatwave is set to crash over Metin2, bringing a string of hot events with it:
Catch the King
The exciting, new card game 'Catch the King' will test your little grey cells, offering rewards for your skill in the form of valuable Bronze, Silver and Golden King's Loot.
New Weapon Skins
It is said, that if you swish your Aquarian blue weapon close enough to your enemy's ear, if they are lucky, they'll be able to hear the roar of the oceans!
Samurai Uniforms and new Pets in Store
Dress up like a legendary samurai in O-Yoroi armour and a Kabuto helmet or summon colourful lantern pets to shed light on your situation and give you a boost with their powerful bonuses.
Football Fever
In Metin2, even Italy can join in the football fun! Show where your loyalties lie with the national team kits – even if your team isn't really playing for the title. You can also call on support from the wing with the two mascot pets Gary Lycaner and Lycaninho, who'll give you a boost with their powerful bonuses and deadly dribbling skills. But hurry, they're only available in the item shop for a short time!
Improvements



Biologist quest: Leaders' Soul Stone can also be looted from Ochao Lord and Strong Ochao Lord.
Bug Fixes



Fixed an error which caused your character to get stuck in certain places on the Enchanted Forest map.


Fixed an error which allowed usage of special characters in the guildbank.


Fixed an error which activated more than one quest after use of Researcher's Elixir.


Fixed an error which made some monsters spawned by metin stones non-aggressive.