Dear players,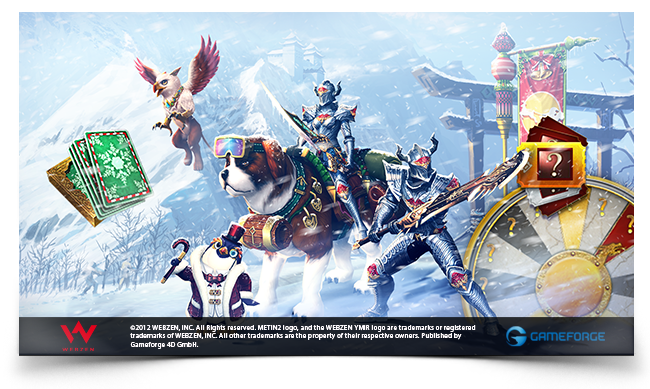 The sweet smell of mince pies, the sound of chestnuts roasting on an open fire – we're winding up to some serious Christmas celebrations.
Dive into a festively decorated adventure starting 30th November 2017.
Here's what winter has in store:
1. Okey Event
The popular okey card game returns from 30th November. Hunt down monsters, loot their okey cards and put together a winning set. Eager beavers can also get their hands on okey card sets available in the item shop.
You can find a detailed guide to the game in the FAQ.
2. Soul and Monster Bash Event
Two brand-new events to keep this Christmas fresh:
• From 6th December: During the Soul Event, the NPC Ah-Yu will reward you for your help with a valuable case. The Celestial and Oneiric Souls contained within will grant your character unimagined powers!
• From 20th December: Let those bells ring out when you beat the boss Baashido around the head in the Monster Bash Event! Amongst other rewards, you can earn powerful buffs or even a pet egg containing a Baby Baashido.
3. Epic Costumes, Mounts and Pets in the Shop
• Take your place at the round table with the glimmering Avalon Armour in the shop, and confront your enemies with powerful bonuses!
• Stay safe out there in the snow with a rescue dog mount or an arctistocratic penguin pet.
• Helmet, armour, Ring of Joy and penguin pet – the more complete your outfit, the greater your bonus.
4. Christmas Tombola, Wheel of Destiny and Fireworks
• From 30th November: Great prizes are waiting to be won in the Tombola and Wheel of Destiny. Plus you can celebrate New Year's in style with fabulous fireworks available for purchase from the event helper starting 29th December.
All event rewards can be redeemed until 15th January 2018.
Wishing you a wonderful festive season,
The Metin2 Team