The update is coming next week on Thursday for our servers. Maintenance might take a bit longer.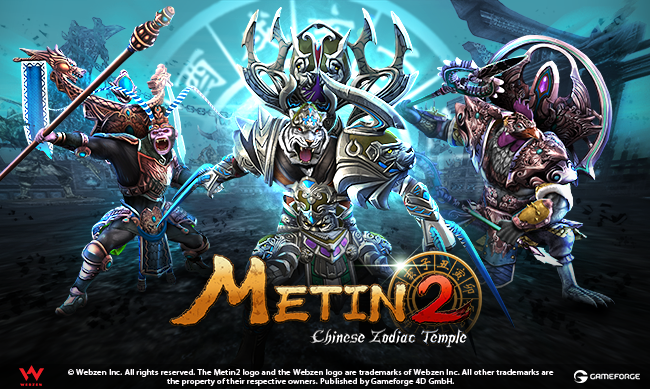 The Changelog for the update is the one that follows:
New:
- Zodiac Temple
• Level entry between 20 to 120
• Dungeon for solo or group of 8
• 40 floors: 10 minutes for each floor, 5 minutes for bonus floor
• 12 new bosses; more than 1 boss can appear per floor
• 5 different maps
• Different dungeons will open each day, except on Sunday, when ALL dungeons will be available
• Players can enter by using Animaspheres. These can also be acquired in game 3 times per day
• If players die during their run, they will be transferred to the first map of the temple
• If a party member dies, they or their party members have one minute to revive. Otherwise the dead party member will be ported back to the Zodiac Temple map (not the dungeon map).
• If the group leader dies and is not revived after one minute, another party member will be promoted to group leader.
• Prisms of Revival can be used to revive characters inside the dungeon
• There is no difference between solo and party play
• There is no limit to the number of entries, you only need to have enough Animaspheres to enter
• Monster strength is adjusted to the player's level
- Elemental Resistances
• New bonuses are being introduced alongside the new maps: Resistances and Damage
• Talismans: 6 new enchantments
• Talismans have their own equipment slot and can be upgraded to level +200
• Enchant and Reinforce Items can be used on the talismans like any regular item
• Depending on your character level, you may or may not upgrade the talisman to the next level
- Character UI Improvements
• The button on the right of the character window provides full stats on the bonuses on your equipped items:
- Damage/Defence
- Elemental bonus
- Class bonus
- Weapons bonus
- Other bonus
- Special bonus
- Balancing Improvements
Resistances and Anti-magic Resistance
• The way magic resistance (MR) and class resistances are calculated has been modified to prevent damage immunity
• The effectiveness of anti-magic resistance (AMR) has been reduced
• The AMR cap for Suras has been removed
• A new resistance to half humans has been introduced
• The calculation of class resistances has been changed to reduce their effectiveness
Piercing Hit Chance
• This bonus now completely ignores the target's defence and only their defence – it does not ignore resistances
• The damage bonus provided by having a greater than 100% piercing hit chance has been heavily reduced
Critical Hits in PvP
• The chance of landing a critical hit with normal hits has been reduced in PvP
• The chance of landing a critical hit with skills has been increased in PvP
• The extra damage derived from critical hits in PvP has been reworked. Instead of simply doubling the damage, it is calculated based on the weapon's damage and level of improvement. This change will reduce critical hit damage in PvP by 40 to 60%
Defence Bonus
• In future this bonus will consider player's total amount of defence
Leadership Skill
• The option 'Blocker' will no longer increase stun duration from magical sources
Class-specific Changes
Lycan
• Attack effectiveness has been reduced overall
Skill Changes – Lycan
• Crimson Wolf Soul
• Cooldown time has been increased
• Removed the defence reduction
• Significantly reduced the chance of landing a piercing hit
• Reduced buff duration to 120 seconds at Perfect Master
• Reduced attack damage power, now providing 473 attack at 90 Intelligence
• Wolf's Breath
• Decreased chance of stunning to 20%
• 100% chance of knocking the opponent down
Ninja
• The base attack calculation will now increase more with Dexterity than Strength
Skill Changes – Archery Force Ninja
• Repetitive Shot
• Reduced cooldown
• Increased SP cost to cast
• Damage will be increased by Dexterity and Intelligence
• Added knockback
• Arrow Shower
• Reduced cooldown
• Increased SP cost to cast
• Damage will be increased by Dexterity and Intelligence
• Added splash damage
• Added slow effect if attack is successful
• Fire Arrow
• Reduced cooldown
• Increased SP cost to cast
• Damage will also be increased by Intelligence
• Increased splash damage radius
• Added lasting fire effect
• Feather Walk
• Reduced cooldown
• The buff duration has been decreased. You can increase it slightly with Intelligence
• The Ninja drops a bomb every second while running. The bombs hit all enemies in a small radius
• Damage will also be increased by Intelligence
• The skill can be cast while using a bow, a pair of daggers or a sword
• Poison Arrow
• Reduced cooldown
• Damage will also be increased by Intelligence
• Changed the chance for poisoning to be affected by Dexterity
• Increased splash damage radius
• Spark
• The Ninja hides after using this skill (same as Stealth)
• Damage will also be increased by Intelligence
• Changed the chance for poisoning to be affected by Dexterity
• Increased splash damage radius
• The skill can be cast while using a bow, a pair of daggers or a sword
Shaman
• The base damage has been changed to Intelligence and Dexterity
Skill Changes – Dragon Shaman
• Flying Talisman
• Increased cooldown
• Added damage bonus if player is using a bell
• Damage will also be increased by Intelligence and Strength
• Increased splash damage radius
• Added slow effect if attack is successful
• Shooting Dragon
• Increased cooldown
• Added damage bonus if player is using a bell
• Damage will be increased by Intelligence and Dexterity
• Increased splash damage radius
• Increased lasting fire chance
• Added knockback
• Dragon Roar
• Reduced cooldown
• Added damage bonus if player is using a bell
• Damage will be increased by Intelligence and Strength
• The area of effect is now at the target instead of the caster
• Increased AoE damage
• Increased AoE damage radius
• Increased lasting fire chance
• Blessing
• Increased SP cost to cast
• Additional bonuses when used on self
• Modified to give buff to every party member around the caster (*)
• Modified the formula to increase the damage reduction based on Intelligence and Dexterity
• Reflect
• Additional bonus when used on self
• Modified the formula to improve effect based on Intelligence and Strength
• Dragon's Aid
• Additional bonus when used on self
• Modified to give buff to every party member around the caster (*)
• The chance of landing a critical hit increases based on Intelligence
• The new critical hit chance buff is 26% for party members and 39% for self with 132 Intelligence
Skill Changes – Healing Force
• Lightning Throw
• Increased cooldown
• Increased SP cost to cast
• Added damage bonus if player is using a fan
• Damage will be increased by Intelligence and Dexterity
• Increased AoE damage radius
• Summon Lightning
• Reduced cooldown
• Increased SP cost to cast
• Added damage bonus if player is using a fan
• Damage will also be increased by Intelligence and Strength
• Decreased chance of stunning
• Lightning Claw
• Reduced cooldown
• Increased SP cost to cast
• Added damage bonus if player is using a fan
• Damage will be increased by Intelligence and Strength
• Added splash damage
• Added slow effect if attack is successful
• Cure
• Increased SP cost to cast
• Modified to heal every party member around the caster
• Increased the healing amount
• Swiftness
• Increased the cooldown to be similar to the duration of the skill
• Additional bonuses when used on self
• Modified to give buff to every party member around the caster (*)
• Modified the formula to increase movement speed based on Dexterity
• Attack Up
• Increased the cooldown to be similar to the duration of the skill
• Increased SP cost to cast
• Additional bonuses when used on self
• Modified to give buff to every party member around the caster (*)
• Modified the formula to increase the benefits based on Intelligence and Strength
Skill Changes – Weaponry Sura
• Dispel
• The level difference between the attacker and defender will influence the chance of buffs being removed
(*) Shaman buffing skills will change again in the near future. The buffs will work differently depending on the situation:
1. If the Shaman has no friendly character actively selected, the buffs will be cast as an AoE around the character and affect EVERYONE who is in the Shaman's party
2. If the Shaman has a friendly character actively selected, the buffs will be cast specifically on the selected character as a single target, independently of whether the latter is in the party or not
- Halloween Event
• New town decoration
• New scary pets and mounts
• New costumes and headgear
• Set bonus available when using Halloween items together
- Yut Nori Minigame
• Based on a traditional South Korean game
• Collect 28 Birch Branches to create a Yut Nori Board
• Players throw 4 Yut Sticks to determine how they move their pieces on the board
• Players start the game with 20 throws and a score of 250
• Points can be earned or lost, depending on actions in the game
• Depending on the amount of points, players receive a Bronze, Silver or Gold Yut Nori Bundle
• The goal is to have the lowest number of throws possible
• Additional bundles will be awarded for the highest scores at the end of the event
- PvP Tournament Event
• 1 map, 4 arenas
• Each tournament can have special restrictions and revive the old battle style
• The winner will get a reward
• All players that win one battle will receive Yang
• All players on the PvP map will receive a 30-minute buff after the tournament winner has been determined
- Soul System Event
• Each character will get their own soul: Blue or Red
• Deliver the requested item to the NPC and they will give you a box that reveals your true soul
• Each soul has 5 grades, each with its own duration. But keep in mind that if you don't recharge it, you will lose your soul
- New Kyanite weapons and armour
• New Kyanite weapons and armour for each class
• New items can be upgraded via NPC
• If an upgrade fails, the item will not break and only the materials will disappear
- New Zodiac Weapons and Armour
• New Zodiac weapons and armour for each class
• New items can be received as rewards in the Zodiac Temple
Features:
- Pet seals have a glowing mark around them when summoned
- Guild skills can now be reset
- Items from Apprentice Chests can now be sold to NPCs
- Gaya System: Changed the calculation and required amount of items to craft Gaya
- Monster Card System: Updated with new bosses
Bug Fixes:
- Sura 'Enchanted Blade' – It is no longer necessary to double-click to activate it again once SP is full
- Potions – If a character dies, the effect of potions will be reduced continuously
- Weaponry Suras – Limits now apply to the level of characters on which the 'Dispel' skill can be cast
- Fixed a bug where players were inflicting too much piercing damage
- Fixed the Crescent costume textures for the Ninja class
- Meley's Lair: EXP is now awarded after the dungeon is finished
- Wedding Dresses and Tuxedoes could not be moved in the inventory
- A message was missing if you were unable to join Meley's Lair
- Character stats now display correct values with the Appaloosa mount
- Fixed an issue in shops that allowed them to have more than one title line
- Meley's Lair: Weekly Gaya is now delivered correctly
- Fixed an issue which allowed the Hero's Medal to be used at the same time as similar items
- Passage Ticket (Meley): NPC only takes one ticket now
- Fixed some potion issues with Auto-Hunting
- Fixed an issue where monsters stopped their attacks for no reason
- Fixed some issues with the Trading Glass
- Fixed an issue where the Dragon Stone Alchemy window was hidden by the new Money interface
- Fixed an issue that caused the Event interface to block the Map interface
- Fixed an issue that caused several effects to expire instead of one effect
- Fixed an issue so that bosses no longer deal 4x hits